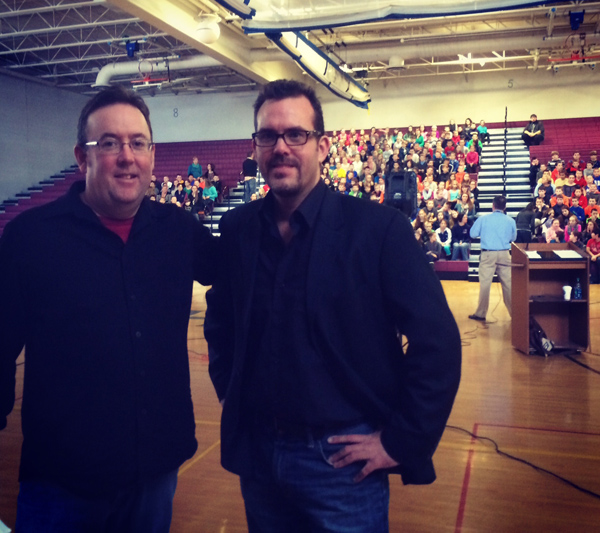 "The Story Starters", aka writer Ted "T.M." Murphy (left) and illustrator Mark Penta, moments before speaking to 400 middle school students.
The Story Starters have a mission: GET KIDS CREATING!
Friends since childhood and creative professionals for over 20 years, Ted Murphy (the writer) and Mark Penta (the illustrator) have combined their talents to create the Wicked Weird Story Starters series. Their goal is to spark the imaginations of kids everywhere, inspiring them to write stories and draw (or color) pictures. They're available for school visits and assemblies across New England.
The Wicked Weird Assembly Presentation
Ideal audience: 5th & 6th grade
Duration: 1 hour 15 minutes
This lively and inspirational presentation (with slideshow) begins with funny tales of their childhood growing up together on Cape Cod, as they slowly discovered their respective talents for writing and drawing. There are plenty of "teaching moments" during their talk as they share the stories, artwork, trials and successes along their journey to becoming published authors and eventual collaborators on Wicked Weird Story Starters. A few Wicked Weird stories are read aloud to the audience, who are then asked to volunteer ideas for endings. Lastly, a few kids are chosen to help Mark create a new Wicked Weird character on his iPad. His drawings are projected onto your large screen, so that the audience can watch the character come alive in real time. The presentation ends with a Wicked Weird surprise; let's just say it leaves the audience cheering!
Classroom Visits:
"The Story Starters" can appear for half day or full day visits, depending on your budget and location. Full school assemblies are possible, and afterward some schools split up Mark and Ted to various classrooms (Mark visits the art room) for more in-depth talks and writing and drawing lessons with the kids.
FOR RATES AND INFORMATION
Please contact us with information about your school,  your interest, class sizes, schedules, etc, so that a program can be tailored for your school. Accurate rates can then be provided. Thank you!
Experienced Creative Educators:

As individuals, Ted and Mark teach people of all ages, both privately and at several notable schools. They've visited countless classrooms over the years, both separately and together, sharing their knowledge and enthusiasm for their chosen creative fields.
Writer Ted "T.M." Murphy teaches creative writing at Boston College. His privately run 'Just Write It' program has taught two generations of kids how to write great stories. His students return year after year, improving their grades, winning fiction contests, and some even growing up to find success as Hollywood screenwriters. Ted has visited countless schools while promoting his young adult fiction books, which are beloved by "reluctant readers" and teachers alike.
Artist Mark Penta teaches drawing and cartooning classes to all ages. He has taught at schools like Rhode Island School of Design, Mass Bay, Dean College, and various continuing ed programs. He currently teaches private drawing lessons near his hometown of Framingham, MA.